Humane Education Program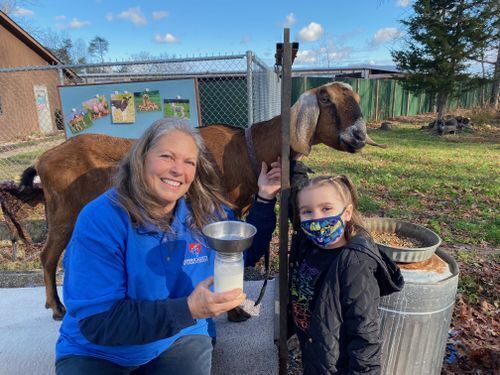 Our Humane and Environmental Education Program has the dual mission of promoting the humane treatment of animals and fostering respect for all life, both animal and human, through education programs.
For over 20 years, we have provided educational presentations about kindness, empathy, animals, and the environment throughout the Charles County Community. Our educators present programs to community members ranging in age from pre-k to senior citizens, encompassing a variety of topics including animal safety, pet care, local wildlife, and environmental issues. Our community outreach continues to engage organizations from public and private schools, scout groups, and senior centers, including activities both at the shelter as well as off-site. Integrating humane education values into the daily lives of our community members is our proactive intention to prevent bullying and abuse in all forms. Providing a child with the opportunity to learn empathy and compassion is the key to helping that child grow into a productive community member.
As the years go by, funding is at an all-time low. We are asking you, our community members and friends, to help by sponsoring our educational programs. It costs approximately $70 a program for our educators to bring a program and a live animal visitor to the community. If you would like to sponsor a program for a specific class or organization, there is a place on the donation form for you to indicate that as well. If you would like to become a much larger sponsor of our program please reach out to our Assistant Director, Charidy Hanson, at chanson@humanesocietycc.org. 
There is nothing in the world like the joy on a child's face as they interact with a live animal. 
Supporting Our Humane Education Program provides:
Classrooms with interactive lessons about both companion animals and wildlife

Animal-themed events for kids and teens

Engaging programs for senior citizens with animal visitors

Summer camps and special events for various ages
Homeschool programs 

Outreach partnered with other community organizations 
Donate to Humane Education Programs
We have raised
$0.00
of our
$25,000.00
goal.