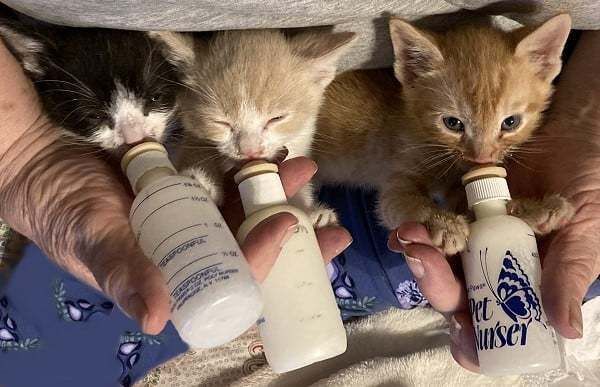 Thank you for your interest in becoming an HSCC foster parent volunteer. HSCC saves more than 1,600 animals each year through our Animal Foster Care Program.  Foster parents provide temporary care for cats, kittens, dogs and puppies in their own homes. Some animals need as little as one night or two nights of care, some two weeks of care, while others may need care for up to three months.
Our greatest foster needs are:
Adult Dogs
Dogs with litters
Cats with litters
Orphaned kitten and puppies that are simply too young and should never be in a shelter**
By offering TLC, and open up your home to an animal in need, you prepare the animal for adoption into a permanent home as well as help prevent overcrowding in our shelter. HSCC is always looking for more foster homes, especially throughout the busy spring and summer seasons when kitten season is starting.
To foster a dog or cat
An online Dog and/or Cat Foster application is required.  
Be of age. The primary caregiver of the foster animal must be at least 18 years old. However, young people can help at home and potentially receive school credit.
Be in the area. Foster volunteers must be able to get to our shelter in Waldorf, Maryland on a regular basis. Please consider the potential commute before applying to volunteer.
Speak to the Foster Care Coordinator.  After you have submitted your foster application, we will be in touch with you about the next steps of fostering and go over foster information.
Start saving lives.  HSCC will assist you with the foster animals that suit your lifestyle.
Most common reasons animals require foster care:
Kittens and puppies who are too young to be spayed or neutered and adopted out into permanent homes. When the animals are eight weeks old and weigh at least two pounds, they can be spayed or neutered and made available for adoption.
Cats or dogs who are nursing a litter of kittens or puppies. The shelter is not the place for mothers with nursing litters.
Cats or dogs who are being treated for injuries or illnesses.
Animals just needing a break from the loud environment.
HSCC PROVIDES: all veterinary care and medicine, food (if needed, however, we cannot always guarantee you will receive the same food your foster animal is use to), formula for all kittens and/or puppies, plus plenty of support to foster parent volunteers.
Foster parent volunteers provide: your time, a place in their home, and lots of love.
Read the Frequently Asked Questions about Fostering — CLICK HERE 
If you are interested in being an animal foster volunteer with HSCC start with the foster application
Dog Fosters — CLICK HERE for APPLICATION
Cat Fosters — CLICK HERE for APPLICATION
Here's how the Humane Society of Charles County foster care works:
After your application has been vetted, and when you are an approved foster, when HSCC receives animals who are not ready to be placed up for adoption, we post help needed in our "Animal Foster Caregiver" Closed Facebook group page.  If you cannot foster at the time we need help, no worries, there will be plenty of other opportunities to foster, so there is no pressure to take an animal.
Foster parents come to our shelter located in Waldorf, Maryland to pick up the foster animal to take home. At that time, volunteers receive information about the animal's condition and needs.
Foster parents may need to bring the animal to HSCC periodically to be examined by our veterinarian, receive vaccinations or other treatment.
Once the foster period is over, the foster volunteer returns the animal to HSCC.
HSCCs' medical team will complete final steps necessary to prepare the animal for adoption.
If you have any questions, please email fosters@humanesocietycc.org
**ORPHANED KITTENS INFORMATION:
Kitten Season is a time when kittens are born and found all over the community.  At the Humane Society of Charles County we provide support to community members who discover kittens in their yard, workplace and community throughout the spring and summer months.  Hundreds of kittens are cared for throughout Kitten Season every year and the decisions made when they are first discovered can make a huge impact on the health and well-being of these adorable "neonatal" kittens.  Please utilize the resources provided on this page if you discover any of these cuties during Kitten Season!  Please contact the Humane Society of Charles County during open hours at (301)-645-8181 or via email at info@humanesociety.org for support with any kittens you may encounter.  After hours please utilize the resources and information below to care for these babies in your homes.
General Guidelines:
1. Kittens are always better left with their mothers!  Always wait before you remove kittens from a nest because the nutrition and care mama cat can provide is much better than anything a human can give.  Mama might be out getting food for herself so leave the kittens and watch from a distance to see if she returns.  If the kittens appear clean, round, quiet, and warm mom is around and involved.  You just can't see her.
2. Kittens who appear thin, wet, sickly, and there is no evidence of a mom over a period of several hours should be rescued and placed in a warm, dry, safe box to stabilize. Mom may have been injured or killed and intervention may be called for.
3. Never feed an unstable kitten!  Kittens need to be warmed gently to normal body temperature prior to any attempt at feeding.  Never feed kittens human food especially cows milk.  When kittens are stable they should only be fed Kitten Replacement formula with a Kitten Bottle/nipple or Miracle Nipple.  Please view video on properly feeding a kitten from Maddie's Fund®:
Bottle Feeding an Orphaned Kitten: How do you get a kitten to drink from a bottle? How often should you feed him? How do you know if the nipple flow is too fast or too slow? Get a step-by-step guide to doing it right in this short video.
4. Kittens cannot eliminate on their own, and it is essential that you help them eliminate urine and feces before and after feeding.  Please view this video for assistance from Maddie's Fund® Stimulating an Orphaned Kitten to Urinate and Defecate.
Mother cats take care of stimulating their kittens to urinate and defecate, but kittens without mothers need help. This step-by-step guide can get any human up to feline mother standards in no time and provides guidance on what to do if problems arise.
5. We also have an educational video provided by our Humane Education Department that you can view with your kids that is all about finding kittens and what to do.