Healthy Pet Clinic
The HSCC Healthy Pet Clinics are a perfect way to keep your pets healthy and up to date on essential preventative care at affordable costs.  All Healthy Pet Clinics are by appointment only in order to provide your pet with the very best service.  Appointments can be made by clicking the scheduling button and following directions to schedule a time slot at the next available clinic.
We are only in the office Monday thru Thursday from 8am to 6pm. If you leave a message by phone or email we will get back to you during office hours. Pets who are boarding with us must be current on vaccines, however surgical procedures can not be done during a boarding stay. We try to have several healthy pet clinics a month which is a good time to get your pet updated on vaccines prior to boarding with us. 
Healthy Pet Clinic Details
Sunday Healthy Pet Clinics offer all services except Nail Trims and Comprehensive exams.

Wednesday Healthy Pet Clinics offer all services except Comprehensive exams.

To schedule an appointment please click the Healthy Pet scheduling link.  

If you try to make an appointment and no dates show up then we are booked up. Just keep checking the website as we are unable to keep a cancelation list.  

There is a $20 office visit charged for every pet seen at the healthy pet clinics.   There is a $20 deposit that will be applied to the balance at the time of service.  It is non-refundable and will be converted to a donation if you do not keep your appointment.

If your pet is having any problems such as ear issues, skin issues, eye issues, etc. you MUST take your pet to a regular facility. This is a HEALTHY PET clinic only. 

Heartworm Preventatives: You must show proof that your pet has either been on a heartworm preventative year-round or has had a negative test within 1 month.

If you are requesting a Lyme vaccine or Feline Leukemia vaccine, you must show proof of a previous vaccine or negative test within 2 months. You can now upload these documents.

Please pay attention to the clinic you are signing up for. If you select something on the list that is not offered at the clinic you signed up for it WILL NOT be done.   

For help scheduling an appointment please call 301-645-8181 x115
**IF YOU PURCHASED A 2022 CALENDAR FROM THE US PLEASE DISREGARD THE PRE-PRINTED HEALTHY PET CLINIC AND RABIES CLINIC DATES AS THEY ARE NOT ACCURATE
Paws for Concern Exams for Pets Over 5 Years Old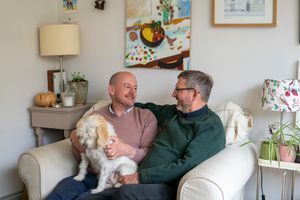 Senior Pets Special Clinic Event
The HSCC Clinic will be holding a special day for pets over 5 years old: 
Monday, August 29, 2022. 
Cost: $50 for the Initial pet exam and health evaluation.
Your pet will receive an exam to evaluate the overall health of your older pet.  This clinic will provide medical procedures/diagnostics that will evaluate your pet's overall health. Depending on the results of the initial pet exam, additional diagnostic services may be recommended at an additional cost:  Bloodwork, Urinalysis Cytology, and/or X-Rays. This clinic will provide medical procedures/diagnostics that will evaluate your pet's overall health. If a chronic condition is identified the results will need to be taken to your primary care Veterinarian for long-term management.
Some examples of potential procedures and tests that can be recommended: 
pre-procedural bloodwork,

new mass diagnostics, or

new heart murmur work-up.
For questions regarding your pet's qualifications for attending this special clinic please email: clinic@humanesocietycc.org
Otherwise please click the "Book Appointment" button to schedule your pet a time at this very special event.  Limited spaces are available.
---
Current Healthy Pet Clinic Prices
| Office visit Fee (automatic) | $20 |
| --- | --- |
| Rabies vaccine | $20 |
| Canine Distemper DA2PP vaccine | $30 |
| Canine Distemper DA2PP w/Lepto Vaccine | $35 |
| Bordetella (kennel cough) | $30 |
| Feline Distemper FVCRP vaccine | $30 |
| Feline Leukemia vaccine | $35 |
| Lyme vaccine (dogs only) | $35 |
| Heartworm test (dogs) | $30 |
| 4Dx Heartworm test | $35 |
| Cat Fiv/Felv test | $40 |
| Microchip | $30 |
| Nail Trim | $15 |
| Milbeguard Heartworm prevention (dogs only) | $10-$16 based on weight |
| Milbeguard Heartworm Prevention (Dogs) 6 months supply | $40-$60 based on weight |
| Vectra 3D Flea/Tick prevention for dogs | $15 or 3/$40 + tax |
| Catego Flea/Tick prevention for cats | $10 or 3/$25 + tax |
| Pre-surgical bloodwork (pre-anesthesia) | $120 |
| General health bloodwork panel | $160 |
| Senior bloodwork panel | $180 |
| Urinalysis | $60 |
If you need a copy of your medical records please select the button below and it will be emailed to you or can be texted to you.