---
Memorial Bricks
---
Welcome to the "Memorial Wall" Brick Order Page
Have you seen our new Memorial Wall?  The recently completed structure on the grounds of the Humane Society of Charles County incorporates and displays engraved memorial bricks previously purchased by supporters.  There is also additional space for approximately 370 new bricks.
The 14′ x 8′ Memorial Wall provides a place of peace and tranquility to sit and remember, or pause and reflect on the devotion and love it embodies.  Each brick represents a precious memory of a pet or person, and though every message is unique, one thing remains constant — engraved bricks are a meaningful way to preserve a loving wish or express a special sentiment.
The large patio provides an area for additional new bricks to be placed and displayed.  As new bricks are purchased, blank bricks will be removed to accommodate the new ones.   Don't miss this opportunity to add your brick to the display and to express your admiration or love for a favorite pet or friend.
More than 1500 bricks were used in the wall and patio.  Materials for and construction of the Memorial Wall were provided by Brictoria Cottage at Charlotte Hall.  
The engraved bricks ensure that the tributes will not fade or erode over time, and every brick is displayed with the respect and reverence it deserves.  Past and future supporters can be proud of their contribution to this lasting display.
Please stop by to see this wonderful new addition to the Humane Society grounds and consider purchasing a brick to honor a precious pet or in memory of a treasured loved one — two or four legged!   Wouldn't a brick be the perfect gift or surprise for a friend or relative?
****NEW**** NOW ORDER MEMORIAL BRICKS ONLINE — CLICK HERE TO ORDER ONLINE
Order the old fashioned way — Order Memorial Bricks by downloading the "Memorial Wall Brick Order Form" filling it out, and mailing it to the address listed on the form, Or, EMAIL the form.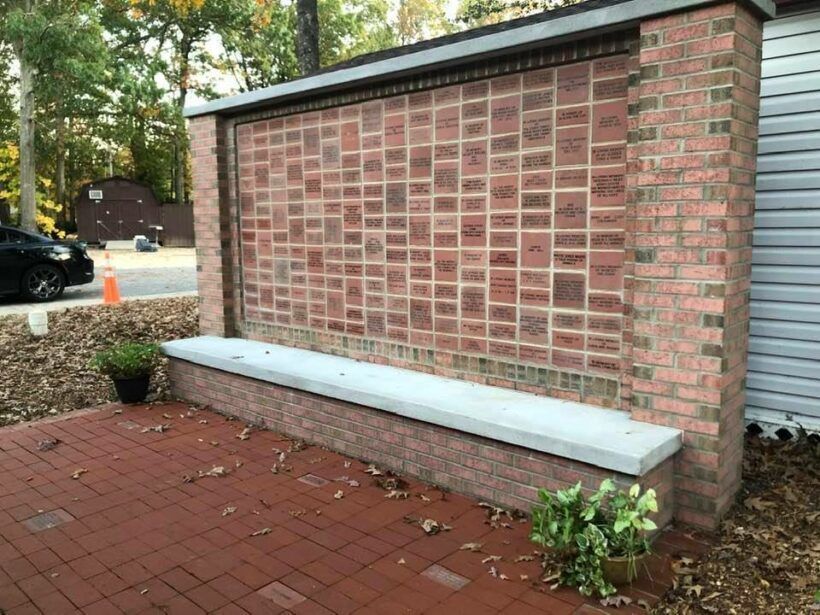 ---
Give by Shopping
---
Shopping online is so easy and it also helps our non-profit animal shelter.  Click below to learn more about how you can shop and help.
---
CFC, United Way, and MCC
---
Donating Through Online Charities — Three easy ways to help the Humane Society of Charles County 
DID YOU KNOW — Our shelter relies solely on donations for the care, feeding and housing of the homeless animals in our community.  You can donate specifically to our local community shelter by visiting both the United Way of Charles County, Maryland Charities Campaign, and the Combined Federal Campaign.  Your donations are greatly needed and truly appreciated.
Combined Federal Campaign (CFC) ***SPECIAL SOLICITATION — COVID-19****
From now until June 30, 2020 there is the CFC Special Solicitation – COVID-19 for Federal employees, members of the military, postal workers and retirees.  Please note that employees can donate all year round.
Under existing CFC regulatory authority and in coordination with the White House COVID-19 Task Force, a special CFC solicitation has been implemented using the CFC online donation portal until June 30, 2020.  This special solicitation provides an opportunity for Federal employees, members of the military, postal workers and retirees to create a new gift or an extra gift to support their favorite CFC-participating charities online or through the CFC mobile giving app.
The Humane Society of Charles County CFC# 81176 | EIN 521212430.
This special CFC solicitation in coordination with the White House COVID-19 Task Force states:
One hundred percent (100%) of the gifts made in this campaign will go to charities (without a distribution fee).
Funds pledged will be paid out to charities by the 15th day of the month following receipt of the pledge by the CFC Central Campaign Administrator
Any employee who did not pledge via payroll deduction in fall 2019 can make a payroll-funded gift through the CFC.
Existing donors who pledged by payroll allotments in the fall of 2019 can make additional donations with electronic credit, debit, or ACH gift on the CFC giving platform or the mobile app. (2019 Payroll pledges cannot be increased at this time.)
United Way of Charles County
If you are a Charles County Employee — Click Here To Donate
Click here to donate through the United Way of Charles County  and at the bottom of the donation page under the "Donation Designations" make sure to enter the Humane Society of Charles County where it states "Enter any special instructions or new agency designation" and you are all done!
The Maryland Charity Campaign (Maryland Employees)
The Maryland Charity Campaign (MCC) is a workplace charitable giving program that offers Maryland State employees the opportunity to contribute to charities using the convenience of payroll deduction.  If you are a Maryland employee, here are the easy steps to help the Humane Society of Charles County continue with their life saving mission.
Visit the Maryland Charity Campaign and following the easy step by step instructions to donate to the Humane Society of Charles County.  We are listed in the Maryland Charity Campaign Giving Guide Charity MCC Code/EIN: 521212430 
***If you are unsure whether your Maryland State employer participates or for more specific instructions on how to give through your program, please contact your human resources department.
Maryland State Employee — Click Here to Donate